Compulsory Basic Training (CBT)
Compulsory Basic Training is a training course, not a test, so all the training you need to be safe on the road is provided for the one CBT course fee. CBT is also your first step towards gaining your motorcycle licence....To do the course you need a valid Licence, the ability to ride a bicycle, some understanding of the Highway Code/road rules and have reasonable English.

CBT is a safety course required by law to entitle a provisional/full licence holder to ride up to a 125cc motorbike or scooter with L plates and some cases moped entitlement for a full car driving licence holder without L plates. The idea is to achieve a safe standard of riding on the road; to ensure this an instructor can only take a pupil on the road if they have reached an adequate standard of riding off-road. If the riding isn't good enough to go on the road later in the afternoon or if you do not feel confident then another off-road training visit would be arranged. As CBT by law is all training to get to a safe standard this is just part of the course, don't worry if you need to do more, you are not alone!
---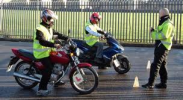 The CBT consists of 5 elements:
Introductory lecture
Machine controls (and maintenance) explanation
Off Road Training
Road Lecture
On Road Riding
---
NEW : Watch the DSA CBT Video here
---
We have been conducting CBT since its introduction in December 1990 with the same philosophy we started with, one fee for all training, no 'test failures', just more riding/training until you are considered safe. The only further charges would be for bike/scooter/equipment hire.
For prices on CBT please see our Price List.