Contact Us
Address
Moto-Technique
Units 1 & 2
Millgate
Dantzic Street
Manchester
M4 4JW
Please Note, due to current situation,
from Wednesday 25th March the Office is closed until further notice.
We will still be contactable by phone and email throughout the shutdown.
phone line open: Mon-Sat 10am-5pm
email replies same day: as above
Telephone

Opening hours

0161 833 4136 Mon-Fri 09.00 - 5.00
0161 839 5044 Sat 09.30 - 5.00
Sunday-office closed
---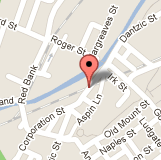 How to find us
We are based in the centre of Manchester and are literally 5 minutes walk from Manchester Victoria Railway Station, Shudehill Bus and Tram terminals.
Please note: the road layout has changed - click on map and/or see note below.

For those who are on foot, make your way to the CIS building then cross over Miller street to where the new CIS building has been built (lots of
glass, dead new, can't miss it!). Walking past this building on your right you then cross over the new road onto the old Dantzic Street. Follow this street toward the railway bridge, we are on the left just after going under the bridge. Or from Corporation Street just walk straight across the new paved area to get back onto the next part of Corporation st and just follow it straight on to the bend, the bridge is just after.
For Maps/SAT NAVs please use M4 4JW or (M4 4DN = King of Kings school on opposite side of road) and/or Click on the map (on the left). Just to let you know we do have free car parking !
Please Note: The new road layout now means that if you are coming from the City centre on Corporation Street (or down Miller Street or Cheetham Hill Rd) you would now turn onto the new bit of Cheetham Hill Rd (A665, one way at this point) which now bears right and leads to the new bit of Rochdale Rd (A664). At this point you then have to turn left at the new traffic lights (just by the cafe) onto Dantzic Street to get to us. So although you can walk straight down where Corporation St used to go to get to us, if driving you need to turn left off the new road at the first set of lights.
You can also access us from either Red Bank off Cheetham Hill Road or Gould Street off Rochdale Road or Collyhust road off Queens Road.
Please call us if you have any difficulties